Overcome Challenges, Get Recognized
Level Effect uses digital badges to award recognition of completion and mastery
Level Effect Digital Badges
We award our students using Badgr, a digital badging service, so they can easily share their accomplishments on their resumes and social profiles. Check out our Badge Links for greater detail on each individual badge.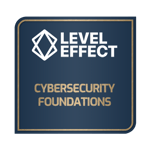 Cybersecurity Foundations
Complete four modules running 12+ hours of content and successfully pass a series of challenging assessments to be awarded the Cybersecurity Foundations digital badge.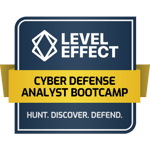 Cyber Defense Analyst Bootcamp
Complete 13 weeks of rigorous challenges, execute and present multiple deliverables, and complete three capstone assignments to be awarded the Cyber Defense Analyst Bootcamp digital badge.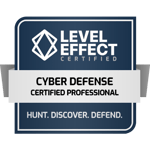 Cyber Defense Certified Professional
Demonstrate mastery of tradecraft by successfully completing five real-world challenges over seven days culminating in a report covering the scope, risk, and impact of adversary actions against the network in your charge.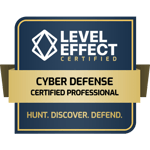 GOLD Cyber Defense Certified Professional
Only valid on your first attempt. An exceptional submission demonstrating the highest tier of tradecraft mastery puts you in the top 5%, setting you apart with a GOLD level certification of the CDCP.
Complete Course or Certification Attempt
Receive notification of completion from Level Effect
Receive invite email to accept award and create account on Badgr
Interested to hear more?
If you have any questions about the Cybersecurity Foundations, Cyber Defense Analyst Bootcamp, or CDCP certification, please don't hesitate to reach out.
Book a Call