Developing Practitioners, Not Theorists
No one questions a hacker's ability based on their theoretical knowledge of cyber—it's all about what they can do. So why do we train cyber defenders the exact opposite?
Real talk: Certifications based upon theoretical knowledge do not stop breaches and do not reduce risk. Action, skill, and ability do.
The Cyber Defense Analyst Bootcamp is a challenging and interactive program that requires students to first demonstrate and then explain their findings, analysis, and applied remediation steps.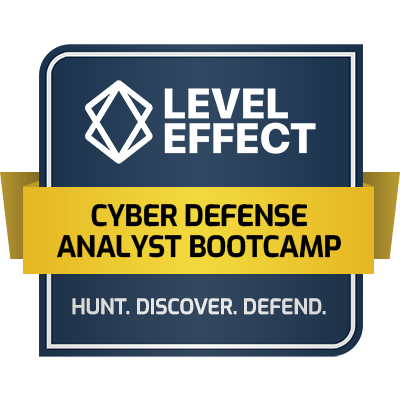 Why Our Cyber Defense Analyst Bootcamp?
The Cyber Defense Analyst Bootcamp is a fast-paced, 15-week program. Learn the skills you'll need to be a cyber defender—by doing the job.
Live and self-paced learning.
You'll get 280+ hours of a mix of live and self-paced learning. Around 74% of your learning will be hands-on.
Real-world exposure to malware and attack techniques.
Make hackers work for their access to your environments by learning how to analyze real malware samples.
Dedicated job prep training and support.
Get job-ready in our dedicated career curriculum that will take you from creating and polishing your resume and social profiles to networking and building your brand. We'll then round it out with real 1-on-1 technical interviews and strategies to succeed.
Lifelong learning access.
Once you become a Level Effect student, you'll always have access to your courses and materials, should you need to refer back for a quick refresher. A career in cybersecurity means you'll be a lifelong learner, and we're here to support that.
Exclusive alumni events and weekly meet-ups.
Gain access to an exclusive weekly meet-up where our instructors dive into new and interesting hacker tradecraft. Upon completion of the program, you'll also have access to other events designed for alumni to network and continue to level up their cyber knowledge.
John Hammond's Testimonial
If you're one of John Hammond's 419k+ YouTube subscribers or one of his 123k+ Twitter followers, you're among like company.
We asked him to take a look at our CDA Bootcamp to give his thoughts and provide an overview of what students can expect in the course.
Watch this video to hear about the CDA Bootcamp experience—and what you'll learn to set you apart as an emerging cybersecurity professional.
How Are We Different?
Hear our co-founders and instructors, Greg Ake and Rob Noeth, explain what we're trying to accomplish and our no-BS approach to getting it done!
Explore The Curriculum
Each module builds upon itself to reinforce your tradecraft and knowledge over 15 weeks. Concepts learned in week one will still be applicable in the final week. Through this cycle, you will build an analytical process, tool mastery, critical thinking, and the ability to assess and validate your findings—in other words, your cyber tradecraft. At this point students are then ready to demonstrate their knowledge attempting the CDCP certification over a final period of one week putting everything to the test.
Contact us if you found this flag as a student LE-H4KTH3PL4N3T.
Track Your Cyber Journey
Attending our Cyber Defense Analyst Bootcamp will take you from exposure to competency—and finally, to mastery of your craft. Demonstrate your ability and commitment to this field with our courses and milestones of accomplishment.

Students who successfully complete our Cyber Defense Analyst Bootcamp earn this digital badge. This bootcamp is a culmination of multiple cyber investigations, reports, and challenges that confirm the holder is capable of kicking hackers out of a network—and not just talking about it.
We won't sugar-coat it: Bootcamps, including ours, are expensive—but they're investments. We bring experience from building our own patented cyber technology and defending more than 70,000 networks with us when we teach and coach you in your cyber journey.
The cost to attend the Cyber Defense Analyst Bootcamp is $11,000 (USD), less any deposits and discounts.
* Discounts, scholarships, and 0% financing are available.
Early Registration Discount: $500. Register 4 weeks in advance of a cohort start date.

Are you a first responder? You'll receive $500 off the listed tuition price. This discount is available to US, UK, AUS, and CAN students.

Active-Duty military or Veteran? Become a member of VetSec and receive a $2,500 discount. Signup information further down on this page.

Discounts available for financing option/payment method chosen. Review our financing options page to learn more.

Active Duty Military or Veteran?
We're proud to partner with
VetSec
, a non-profit organization whose mission is to help employ all veterans who want to pursue a career in cybersecurity.

VetSec members receive a $2,500 discount on the Cyber Defense Analyst Bootcamp. We also provide one VetSec member a full scholarship to attend our bootcamp each cohort.
Details on how to apply are available to VetSec members.

Thank you for your service!
*Please note that our Open Doors scholarship is not open to recipients of a VetSec scholarship.
The next cohort starts in:
Spring '23 Cohort
May 1, 2023
Fall '23 Cohort
Aug 28, 2023
Winter '24 Cohort
Jan 8, 2024